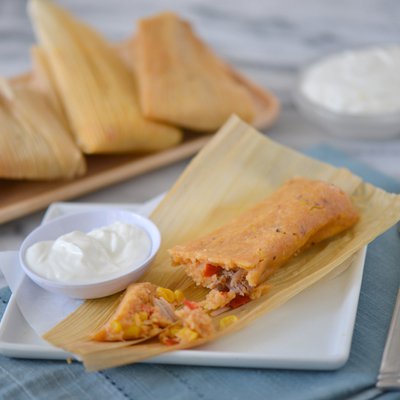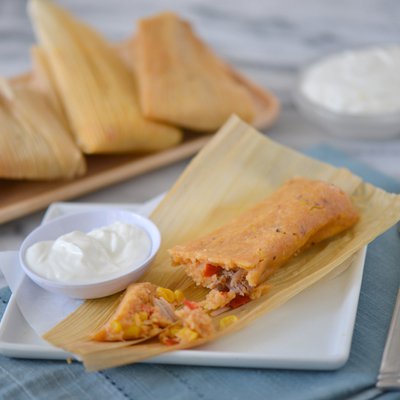 1 pound pork stew meat, chopped into 1/2-inch pieces

1/2 cup chopped red bell pepper

1 tablespoon MAGGI Granulated Chicken Flavor Bouillon

1 1/2 cups frozen corn, thawed

2 cups prepared masa for tamales
<b>SOAK</b> corn husks in water for at least 1 hour.<BR><BR><b>HEAT</b> oil over medium heat in a large saucepan. Add pork, onion and garlic; cook, stirring occasionally, for 15 minutes.<BR><BR><b>ADD</b> tomato sauce and bell pepper; cook, stirring frequently, for 7 minutes. Remove from heat. Set aside.<BR><BR><b>PLACE</b> corn in a food processor. Pulse 5 to 7 times or until corn is a thick, chunky consistency.<BR><BR><b>ADD</b> corn to pork; stir. Add masa; stir until combined.<BR><BR><b>PLACE</b> corn husk on a flat surface, pointy side down. Spread ¼ cup pork mixture on husk. Fold sides, overlapping over filling, then fold pointy side up. Repeat with remaining filling and husks.<BR><BR><b>ARRANGE</b> tamales upright on steamer rack. Fill with hot water to right below the rack.<BR><BR><b>COVER</b> top of tamales with remaining husks and damp towel; cover with lid. Bring to a boil; reduce heat to medium, adding water as needed. Steam for 2 hours or until masa pulls away from husk.<BR><BR><b>SERVE</b> warm with a side of sour cream.<BR><BR>Tip: Add 1/3 cup of roasted green chile strips to the mix for a spicy kick.
Nutrition Information
carbohydrates

30.38 Grams