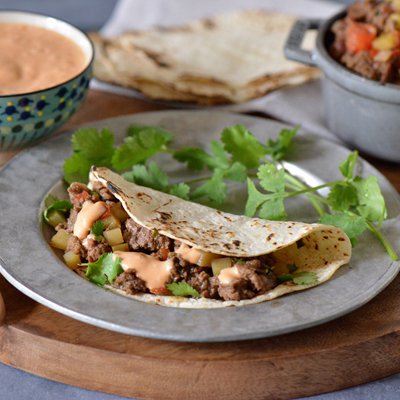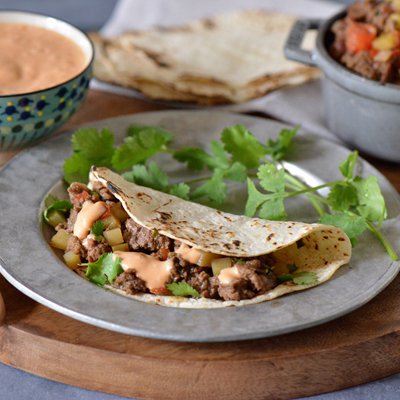 2/3 cup plain fat free Greek yogurt or fat free sour cream

1/3 cup NESTLÉ® CARNATION® Evaporated Fat Free Milk

1 large (or 2 small) chipotle chile in adobo sauce from a can, seeds removed

1 tablespoon plus 1/4 teaspoon MAGGI Granulated Chicken Flavor Bouillon, divided

1 tablespoon NESCAFÉ CLÁSICO 100% Pure Instant Coffee Granules

1/4 teaspoon freshly ground black pepper

2 pounds lean ground beef

1 cup chopped yellow onion

1/2 cup unpeeled, cubed Yukon gold potato

1 cup finely chopped tomato

1/2 cup seeded, chopped, roasted poblano chile

1/3 cup finely chopped cilantro

4 cups shredded romaine lettuce
<b>PLACE</b> yogurt, evaporated milk, lime juice, chipotle chile, garlic and <i>1/4 teaspoon</i> bouillon in blender; cover. Blend until smooth. Pour into a serving bowl and set aside.<BR><BR><b>COMBINE</b> <i>remaining 1 tablespoon</i> bouillon, coffee granules and pepper in a small bowl. Set aside.<BR><BR><b>HEAT</b> oil in a large skillet over medium heat. Add ground beef; cook, stirring frequently, for about 2 minutes. <BR><BR><b>ADD</b> onion, potato and bouillon/coffee mixture. Cook, stirring frequently, for 5 minutes. Add tomato, poblano chile and cilantro. Stir; cover and reduce heat to medium-low. Cook for an additional 10 minutes. <BR><BR><b>SPOON</b> ¼ cup beef mixture on a warm corn tortilla. Top with chipotle sauce and lettuce. Refrigerate any remaining sauce.<BR><BR>Tip: Substitute tortillas with lettuce leaves for lettuce wraps.
Nutrition Information
carbohydrates

15.38 Grams