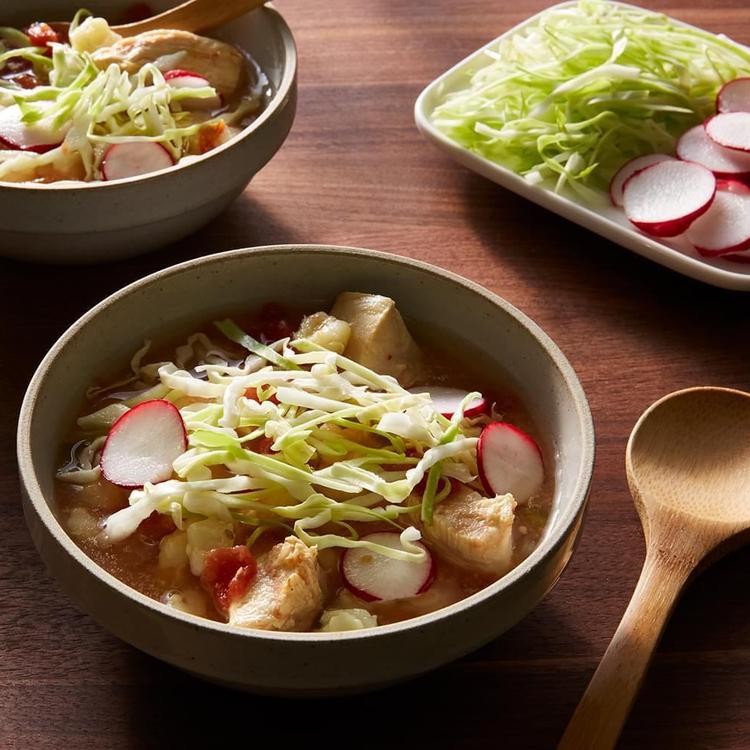 3 teaspoons Maggi® Granulated Chicken Flavor Bouillon

1 ½ pounds boneless, skinless chicken breast halves, cut into 1-inch pieces

1 can (29 ounces) hominy, rinsed and drained

1 can (14.5 ounces) diced tomatoes, undrained

2 fresh jalapeños, seeded and chopped

2 cloves garlic, finely chopped

2 teaspoons dried oregano

½ teaspoon crushed red pepper flakes

2 cups sliced green cabbage
Place water and bouillon in 5-quart slow cooker; stir until bouillon is dissolved. Add chicken, hominy, tomatoes with juice, onion, jalapeños, garlic, oregano and red pepper flakes.
Cook on low for 4 hours or until chicken is tender.
To serve, squeeze with lemon juice. Garnish with cabbage and radishes.
Nutrition Information
cholesterol

52.39 Milligrams

vitamin_d

0.07 International unit

carbohydrates

16.03 Grams