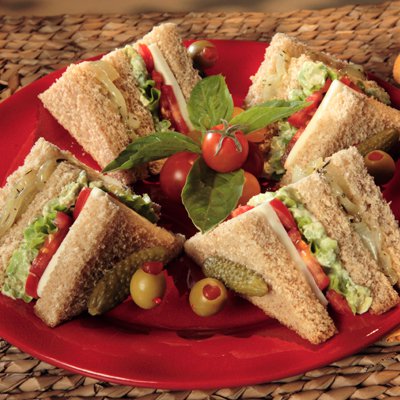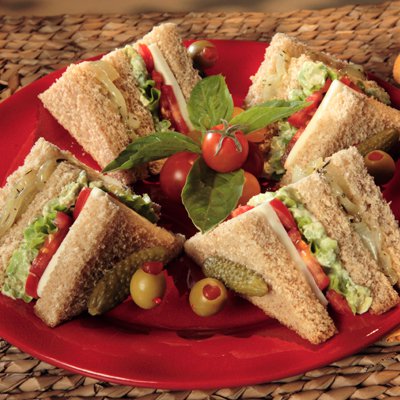 1 teaspoon MAGGI Granulated Chicken Flavor Bouillon, divided

1 slice (2 ounces) panela cheese

1 tablespoon NESTLÉ Media Crema

1/2 small onion, thinly sliced

3 slices double fiber bread

Pitted olives for garnish
<b>SPRINKLE</b> <i>1/4 teaspoon</i> bouillon evenly on tomato slices and cheese; set aside.<BR><BR><b>COMBINE</b> avocado, media crema, lemon juice and <i>1/4 teaspoon</i> bouillon in small bowl; set aside.<BR><BR><b>HEAT</b> oil in small skillet over medium-high heat. Add onion; cook, stirring occasionally, for 5 minutes or until tender. Add <i>remaining</i> bouillon and thyme. Spread onion mixture on 1 slice of bread. Cover with second slice of bread. Spread second slice of bread with avocado mixture; top with lettuce, tomato and cheese. Top with third slice of bread. Cut into quarters. Place olives on center of each sandwich quarter and secure with wooden picks.
Nutrition Information
calcium

569.17 Milligrams

carbohydrates

80.18 Grams

sodium

1813.65 Milligrams